Originally published 08.04.2021
ARI PIISPANEN founded his first business Konetuote Piispanen in 1989. Since then, he has founded many new businesses and invented new technologies. Now, the serial entrepreneur is driven by the desire to beat the climate change.
Piispanen enjoys having his office adjacent to LUT University.
"Finding new talent is easy with the university next door," he says.
"Collaboration with the business incubator Business Mill, located on the university campus, is also going really well."
Piispanen, who comes from the world of mechanical engineering, has turned the focus of his business and innovation activities towards sustainable development and green energy concepts and their commercialisation. Aside from his current businesses, he has founded seven others and he currently holds more than sixty patents.
Methods for Managing the Climate Change 
Climate change began to concern Piispanen about five years ago. He did not sit idle with his concerns, instead launching three development projects aimed at managing climate change.
"Development has shown that managing climate change is technically and economically feasible," Piispanen says.
"Forms of zero-emission energy production, such as wind and solar, are already cost-effective."
In addition to these, solutions for storing energy, removing carbon dioxide from the atmosphere and converting it into hydrocarbons as well as reforesting Africa are also needed. Devices and solutions to meet these three needs are currently under development in Lappeenranta. Three companies are involved: Soletair Power Oy, Elstor Oy and Afstor Ltd.
Soletair Power Oy
"The VTT research centre and LUT University were working on a project to capture carbon dioxide emissions from flue gas and convert them into hydrocarbons," Piispanen explains.
"When I heard about it, it dawned on me that it was possible to capture carbon dioxide directly from air and turn it into hydrocarbons."
To make this possible, Piispanen produced a device for capturing carbon dioxide, which opened up the way to making fuel out of air.
These innovations led to the founding of Soletair Power Oy.
Soletair Power Oy produces synthetic, renewable fuel from carbon dioxide that is captured from air as it flows into buildings.
"We are making fuel out of air, which means our production process is very ecological," Piispanen explains.
"In addition to our own faith in the concept, a multinational technology company – the energy giant Wärtsilä – also believes in it and has invested a significant amount of money into Soletair Power."
Together, Wärtsilä and Soletair Power have presented their Power-to-X unit to people such as Finnish Prime Minister Sanna Marin, who was introduced to the technology during her visit to the company's facilities in Lappeenranta last November.
"Wärtsilä has also ordered a Power-to-X unit for the Finnish pavilion in Dubai's World Expo," Piispanen says.
"Because of coronavirus, the World Expo has been postponed and will be held from 1 October 2021 to 31 March 2022."
Afstor Photovoltaic Systems to Africa
Piispanen sees replacing wood-burning stoves in Africa as a significant move towards solving the problem of climate change. His company Afstor has produced a functional solution that benefits everyone.
"The aim is simply to bring an end to wood-burning for food preparation in Africa and plant new trees to replace those cut down for firewood," Piispanen says.
"Currently, a family of five uses approximately 4,000 kilograms of wood per year, which produces about 6.4 tonnes of carbon dioxide emissions.
There are millions of such families in Sub-Saharan Africa, and if they can be offered a sustainable energy generation system that does not require trees to be cut, one significant hurdle in fighting the climate change will be cleared.
"A photovoltaic system with an induction stove developed by one of my companies, Afstor Ltd, is able to produce enough solar energy for food preparation, lighting and electrical devices."
"The Afstor induction stove photovoltaic system includes solar panels, a battery, an induction stove, lights, an operating hour meter and a CO2 tracking function."
"Over the course of a five-year period, the invention can reduce carbon dioxide emissions by the equivalent of a 260,000-kilometre car journey."Elstor Oy Energy Storage Solutions  
Elstor Oy is focused on energy storage solutions
These are needed because electricity demand is not constant. Instead, it is affected by the amount of energy produced and the availability of wind and solar power.
"We have developed a solution with which electrical energy can be stored and discharged as heat or steam when needed," Piispanen explains.
"It is a new kind of heat accumulator that can be used to provide zero-emission thermal energy on demand."
The innovation is based on making use of the phase transition of a material with a high melting temperature. This is the same effect that can be seen when water freezes. The difference is that here it occurs at 300 degrees
Talent from the University
Aleksi Porkola completed a master's programme in electrical engineering in autumn 2020, having started an internship at Elstor Oy in 2018.
"In the past few years, he has become something of a multidisciplinary expert," Piispanen says.
"He can keep up regardless of whether we're talking about chemistry, the electricity market or pressure vessel regulations."
"What's more, his previous training as an electrician has been a boon for the company on a weekly basis."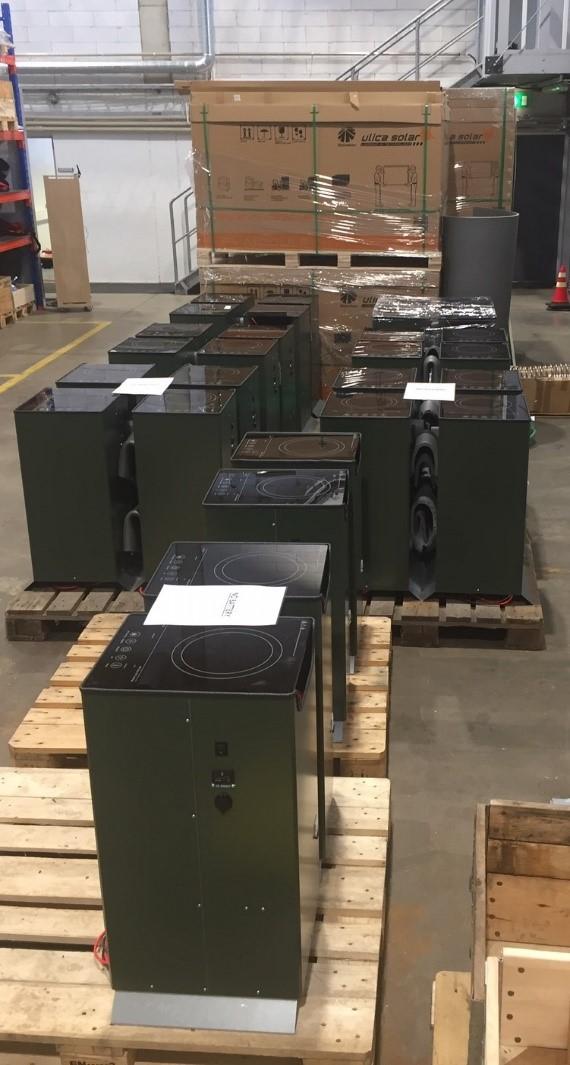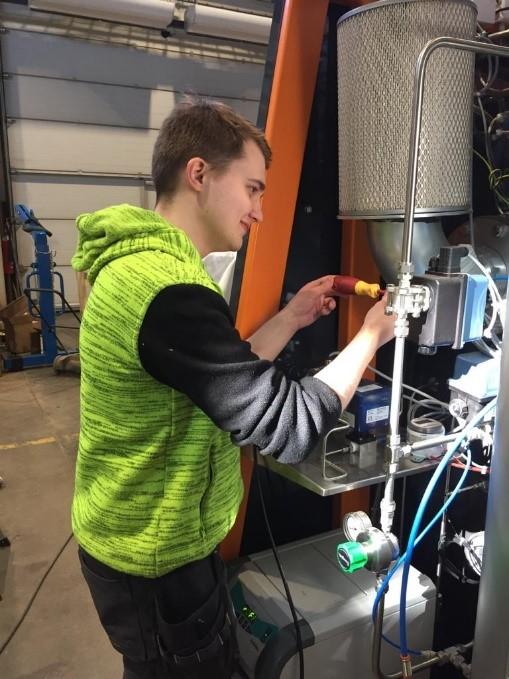 https://www.greenreality.fi/en/lprnyt/green-city-serial-entrepreneur-and-inventor-seeks-counter-climate-change-his-technologies