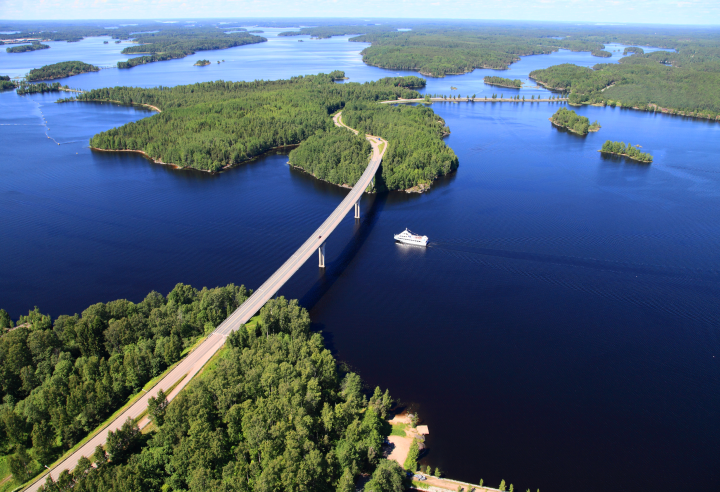 EVENING RECEPTION 28.9.2022
The main evening reception will take place on Wednesday September 28th, 2022 starting at 19 in Holiday Club Schibsted Arena.
The Saimaa region is known for its pristine nature and beautiful lake scenery, which is an enchanting experience for Finns, and even exotic for foreign guests. However, it alone is not enough to win the hearts of tourists. A combination of peace, nature, high-quality accommodation and diverse activities make people return to the shores of Lake Saimaa.
Evening Reception Wednesday September 28th 19-22
Holiday Club Saimaa is located in 30 minutes ride from the city center. We will take you to the beautiful Saimaa landscape by buses straight after the first day Forum program.
The program of the evening will include welcome speeches, music and some surprise numbers you do not want to miss.
Dress code: Smart casual
We will make our best to ensure casual, relaxing and memorable evening! The main reception will be part of the networking village – the state of mind – that will be in teh main role of all the Forum.
Catch up with old friends, make new and enjoy the marvellous Saimaa scenery, music and amazing local tastes.
Buffet dinner from local ingredients
The menu will be full of surprises and you will expierience a whole new world of Nordic cuisine. The chef will walk you through the menu and answer all questions you may have.
Program
The event will be opened ca 19.30 when all the buses have arrived by the Director of Tourism, Marketing and Customer Service at City of Lappeenranta, Ms. Mirka Rahman.
Opening address will be presented by the Chair of the City Council of Lappeenranta Ms. Sanna Koskenranta
Music by the youth orchestra Palo
Dinner
Lappeenranta – the capitol of coffee by the Managing Director of Lehmus Roastery
Music by the youth orchestra Palo
Disc jockey, dancing, background music.
The first bus back to city center leaves at 21.30, then there will be a bus in every 30 minutes. Buses will drive through the city harbor and leave guests upon request closer to the hotels (Lähde, Rakuuna, Patria) OR to the night entertainment venues Teerenpeli and Armas. The final destination of the buses is the City hall, next to hotel Lappee.
Lappeenranta personnel will be at your service during the whole event. You will recognize them from a green scarf and a blue badge lanyard.